Behavior Protocol for Dog Anxiety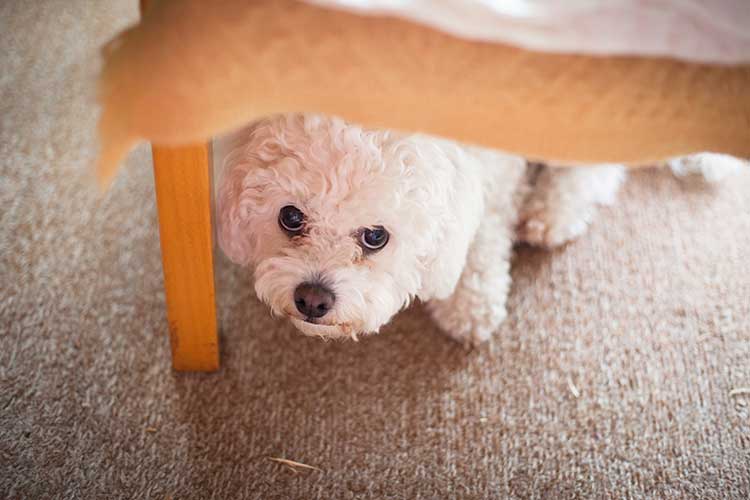 It's a difficult moment when a dog trainer confirms your sneaking suspicion: your dog has anxiety. While it's something you always kind of knew, it's still difficult to digest once a professional confirms it. Before freaking out, and withdrawing from society, there are steps that can help reduce your dog's anxiety. These tips will help get you started on a behavior protocol for success.
Take a deep breath, summon all your patience and get busy teaching your dog that scary things make good things happen. It works!
Stop the Trigger Exposure
Give your dog a trigger-free siesta from scary stuff. This will reduce your dog's stress level and prevent your dog from practicing unwanted behavior (e.g. barking, lunging, running away, etc.). This seems simple, but it's very difficult for most pet owners. A "trigger-free" siesta means halting all trigger exposure until your dog learns how to handle scary exposure positively. A undetermined "behavior" siesta will have a profound effect on your and your dog's success.
During your dog trainer's consultation, your dog's triggers were likely discussed in detail. Triggers are events or things that cause your dog to become anxious. If your dog is afraid of meeting new people, stop all greetings immediately. When guests come over, crate your dog in another room (away from guests) with a food stuffed toy and play soft music in the background.
Many dogs are afraid of other dogs, so stop all dog-to-dog greetings and daycare events immediately. If you're unsure of your dog's triggers, consult a professional dog trainer who has experience working with anxious dogs.
Put a Plan Into Place
During the consultation, your professional dog trainer should provide you a list of recommended behaviors to reduce your dog's anxiety. Of course, a trigger-free siesta should be the first step.
Next, your dog trainer should explain, demonstrate and provide a dog training plan with exact steps for the next 2 to 3 weeks. It may seem odd teaching your dog "touch" and "leave it" when your goal is to reduce your dog's anxiety, but there's a reason for it.
Teaching your dog to do something else, instead of freaking out, works great. Once your dog is ready and willing to greet people, "touch" is a non-confrontational way to greet guests. Also, your dog trainer should recommend tips for counter conditioning and desensitizing your dog to scary triggers, which is another important part of your dog's behavior protocol.
Follow Your Training Plan
Training sessions should be short and fun with lots of yummy rewards. Practicing over and over again becomes exhausting so much so that many dogs will react or quit. Keep dog training sessions to 1-2 minutes long, and progress to the next step only when your dog is ready. Work at your dog's pace, and reward generously!
Follow Up With a Dog Trainer
Solving complex dog behavior issues within a one-hour consultation is impossible, so plan to follow up with your dog trainer regularly. On average, plan a virtual phone consult every 2 weeks and an in-person consult monthly.
Each session will build upon itself until your dog's anxiety is reduced. Skipping regular follow-up sessions will certainly halt your dog's training process, so it's important to have a professional guide you through the next steps.
When to Seek Additional Help
Sometimes, dogs and pet owners need additional help and that is OK. Professional dog trainers will bring in veterinary behaviorists when progress has halted. Many times, dog trainers will reach out to fellow dog trainers for a second opinion, which is a wonderful way to identify any issues. Partnership is critical when progress has stopped, so ask your dog trainer for a second opinion to boost your success.
Anxiety in dogs is quite common, but you can help reduce it by following these steps. Remember to always reach out for help when progress halts or regresses.