Anxiety Medication for Dogs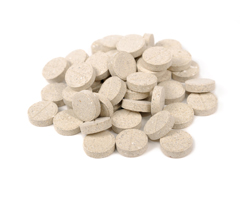 Could supplements decrease anxiety in canines? Research is catching up and, so far, there's mixed results. Is it still worth a try? Most certainly! I'm not a veterinarian, but I'm a dog trainer who has worked with many dogs dealing with anxiety. Personally, I've seen significant decreases in anxiety with certain supplements in both dogs and myself. Read on for my product recommendations!
What is Anxiety?
Anxiety is a feeling of worry, uneasiness and sometimes panic when anticipating an event or outcome. Usually, anxiety develops after exposure to a fearful event. It could be a single or multi-event exposure that triggers anxiety. Let's break this down even further with examples.
Dog A meets Dog B for the first time.
Dog B attacks and causes harm to Dog A.
Dog A learns that dogs can be unpredictable (can happen in a single event).
Dog A becomes anxious when he sees other dogs. He thinks all dogs will attack/cause him harm.
Personally, I'm afraid of clowns. As a small child, a clown picked me up at a parade, and to this day I become very anxious around clowns. I don't want them to touch me! 🙂
Supplements for Anxiety
Can supplements cure anxiety? A supplement will not cure anxiety. It can minimize it so a dog can learn how to cope with anxiety, but it will not stop anxiety in its tracks. When dealing with anxiety, it's important to use a holistic approach, which means looking at the whole dog. It's best to pair supplements with additional modalities, such as soft music, Thundershirt, aromatherapy, DAP Calming Spray and massage for maximum benefits.
There are thousands of supplements to choose from, however, I'll narrow down by discussing supplements I've recommended and used to reduce anxiety.
Before beginning any type of supplement, always discuss with your veterinarian first.
L-theanine
An essential amino acid that promotes concentration and calmness, and does not cause drowsiness. While this supplement promotes calmness, it can cause hyperactivity in excessive amounts so always partner with your vet before beginning any supplementation. Dosage depends on size of dog and anxiety level, and usually takes 1-4 weeks to notice a difference. Personally, I've used this supplement and noticed an immediate decrease in stress and anxiety.
Sources: Anxitane by Virbac, Composure by VetriScience. I've used both brands with great results!
Melatonin
A hormone that promotes sleep and relaxation. I've successfully used melatonin to prevent anxious reactions to thunderstorms, fireworks and when traveling with dogs. Before a storm or fireworks, I recommend hiding a melatonin pill in a glob of peanut butter before giving to your dog. Then, immediately pair with soft music, Thundershirt and/or massage. In the beginning, it's probably best to use a combination approach, and once your dog learns positive calming associations with soft music, Thundershirt and massage, they will learn to calm themselves quickly.
Dosage:
1 mg for dogs under 30 pounds
3 mgs for dogs between 3-100 pounds
A few cautious words worth repeating:
Keep your dog away from the trigger that causes his anxiety (this is vital). Read why here and here.
Partner with your vet for dosage recommendations.
Give supplements daily for best results.
Pair with other calming modalities.
Watch for side effects (everything has side effects). Note anything unusual when it happens and what caused it to happen and discuss with your vet.
Purchase supplements from a reputable source.
More is not better. Follow dosage for your dog.
If no improvement within 2 months or anxiety worsens, seek help from a professional dog trainer and/or a qualified Animal Behaviorist  (inform your vet too!).
What are your results with supplements targeted to reduce anxiety in dogs? Let's share so we are better informed.