You Might Want to Rethink Installing a Dog Door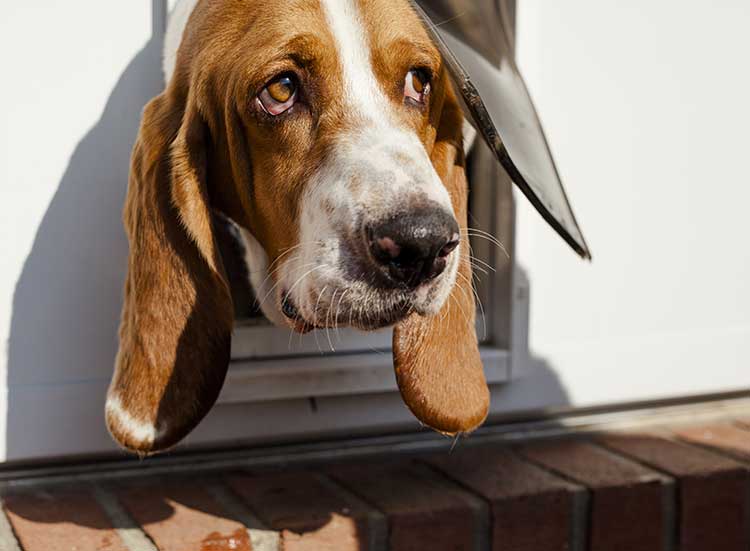 Installing a dog door that allows your dog access to the backyard is a personal decision. As a dog trainer, I'm not very fond of dog doors. Understand that when I'm called to address dog behavioral concerns, the dog door is usually tied to the cause. It's not the dog door's fault though; it's giving your dog unlimited access to the backyard that's the culprit.
Before your hackles rise up, allow me to explain why I dislike dog doors. Once you understand the risks from a dog trainer's perspective, then decide if a dog door would work for your dog.
Dog Door Risks
Your Dog May Bark More
Easily, excessive dog barking is the most common behavior issue during private consults—usually coupled with aggression. When dogs have unlimited access to a dog door, they'll learn to run outside at the slightest sound and bark. Soon, this becomes a pattern, and dogs become really good at barking at anything and everything.
After a few weeks, neighbors will start complaining about excessive barking during the day when pet owners are at work. Then, neighbors will start to complain about dogs randomly barking at night. Eventually, the barking dog will be known as a nuisance barker and Animal Control will intervene and fine the pet owners.
Usually, I'm contacted right before or after Animal Control is involved. By this time, a barking dog has had plenty of time to practice barking. He'll have become very efficient at rushing through the dog door to address whatever noise was heard. During my private lesson consults, many pet owners swear their dogs are "protecting their properties" by barking. Honestly, a dog's presence and 1-2 barks is enough to warn intruders. Barking incessantly is a nuisance and unnecessary.
If this sounds like your dog, it's time to lock up the dog door and hire a dog sitter for afternoon potty breaks. Also, leave soft music playing to drown out outdoor noises and prevent your seasoned barker from practicing his barking behavior again. Provide plenty of mental enrichment toys to keep your dog's brain busy solving puzzles instead of barking.
Your Dog May Escape
When the right motivation combines with plenty of opportunities to practice climbing a fence, a dog will scale a 6-foot fence with ease. Motivation to bark includes another barking dog, kids riding bikes, or another dog approaching the fence. Pair motivation with the ability to climb a fence, and your dog will eventually get really good at escaping your backyard.
Dogs are smart. If they can't go over the fence, they'll go under. Don't be surprised if your dog escapes if you give him 24-hour access to the backyard.
RELATED: The Dangers of Invisible Dog Fences
Your Dog May Become Aggressive
While incessant barking in a backyard is a common complaint from pet owners, there's a much more dangerous issue. When dogs are allowed unlimited outdoor access without supervision, they'll become frustrated and learn inappropriate behaviors, such as aggression.
When dogs see other dogs walk past their fence, they'll learn to bark and even fence fight. Some dogs become very dog aggressive just from practicing this behavior in the backyard. And at times, some dogs become aggressive to people walking near the fence or children riding their bikes on the sidewalk.
If your dog is dog or human aggressive, keep him securely indoors and away from windows. Hire a pet sitter to bring your dog potty in your securely fenced-in backyard. This way, your pet sitter can redirect or reward good behavior when your dog encounters a trigger.
Thieves and Wildlife May Intrude
Most pet owners with dog door installations scoff at the idea of thieves and wildlife entering through a dog door, but it happens. While we assume our dogs will deter thieves and wildlife, sometimes these threats are actually drawn to dogs. Thieves can pepper spray your dog and enter your house through the dog door. Or worse yet, steal your dog.
Wildlife will follow the scent of food, especially dog food left near a dog door opening. Most wildlife scavenging for food aren't very friendly either. They can seriously harm you and your dog plus carry disease.
No Dog Door, So Now What?
Installing a dog door is a personal decision, but I do think hiring a pet sitter is a much better idea. Yes, I know it's more expensive, but it will prevent inappropriate dog behaviors caused by unlimited and unsupervised access to your backyard. Plus, hiring a professional dog trainer who provides results are expensive. Most dog trainers charge more than $100 an hour. So dog door drama costs can add up too. 🙂
If you're one of the lucky ones without dog door drama, count your blessings. But do know, things can change quickly and you may want to ask your neighbors or set up a camera to make sure your dog is polite when outdoors. 🙂