Dog Training: The Problem With Leash Corrections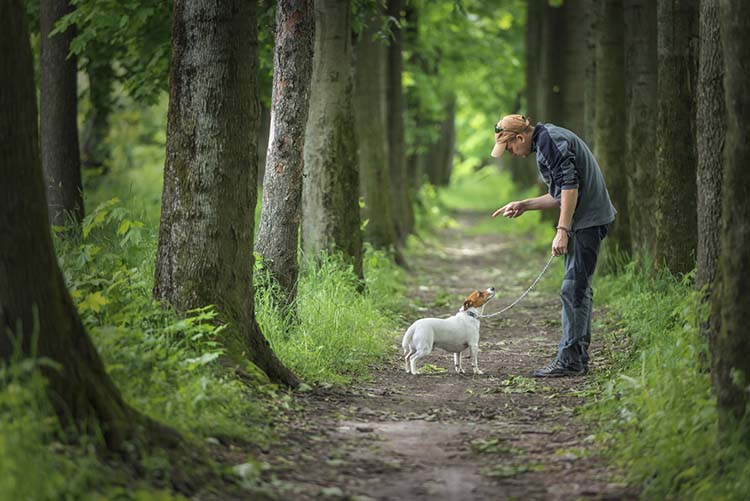 Punishment is an extremely controversial subject, and highly debated between parents, grandparents and even dog trainers. Most pro or con debaters quickly take a position and fiercely argue why it's the only option available. But I don't think anyone really hears each other between the name-calling, finger-pointing, flaming social media posts and so on.
While I'm not a parenting expert, I'm certainly an expert in dog training. With that said, I'd like to explain why leash corrections are an issue. Leash corrections are when you pull on your dog's leash to get him to do something. They're also called leash pops.
Before firmly digging in and protesting, please take a moment to understand why leash corrections are bad. Seeing both sides makes for a well-rounded person. Allow me to explain why and show research proving leash pops do more harm than good.
Leash Corrections Don't Teach Dogs Anything
When correcting your dog with a leash pop, you're not really teaching your dog anything. Many years ago, I worked for a huge pet retailer where an older and very wise District Manager leader once said, "Anyone can tell someone what he or she did wrong, but a great leader teaches him or her what to do instead."
That resonated with me on another level. I understood those principles from a dog training perspective, but to watch a proven leader teach his team how to excel in every situation using his motto was extremely powerful.
Physical or verbal corrections will destroy your relationship with your dog. I've personally witnessed how leash corrections ruined the bond between dog and owner many times. Pet owners swear their dogs "appreciate fair corrections because they're done with love." Yet, their dogs' body language would say otherwise.
Punishing is more rewarding to the punisher than the punished. That statement probably stings, but it's true—even Dr. Phil agrees.
It's Not Your Dog's Fault
Pet owners become frustrated with their dogs, and then take their frustrations out on their dogs. Anything and everything that goes wrong during the learning process is blamed on the dog. In my 20-plus-years of dog training, I've only witnessed one pet owner take responsibility. Another invaluable quote I learned the hard way will always stay with me is: "As a teacher, it's our job to teach a learner. If the learner is confused, the teacher did something wrong."
A Valuable Lesson From Training My Fish Dribble
While completing a 6-month-long national dog training certification program, I had to train a non-canine species to perform certain tasks. Teaching a fish to perform tasks was super exciting and really challenged my animal training skills. Here's a tiny gilled animal floating around in water that couldn't care less what I did or didn't do. This quote stays near my heart because it's true: When Dribble (my blue betta) became confused, it was my job to figure out a better way.
When dogs (fish or humans) become confused, they either stop moving, choose to do something else or leave. If your dog doesn't respond to a cue, he's either confused or wasn't trained to do otherwise. The learner is right, my dear reader. 🙂 As a pet owner, it's your job to teach your dog how to co-exist politely with humans.
As for Dribble, he learned quickly and so did I! Plus, he lived a long and happy life and performed his learned behaviors every day. 🙂
Why Punishment is a Slippery Slope
Now, back to leash corrections. Most pet owners justify their uses of leash pops, or punishment, with the following reasons:
"My dog stopped listening to me."
"He knows better."
"She knows what I'm asking her to do."
All three reasons boil down to: "My dog embarrassed me, so I corrected him." Or "I had to chase you for 10 minutes, and I'm going to punish you because I'm frustrated" or even "How dare you do that to me?"
These are also the same reasons why dog owners scream "no" at a dog. And if you disagree, you're not being completely honest with yourself. Are you happy when giving your dog leash pops? 99.9% of pet owners punish their dogs when disappointed. Leash corrections are used to indicate "wrong choice," but we all know the "no" command is meaningless.
Take Responsibility
I'm aware that life isn't filled with rainbows, unicorns and sunshine all the time. Though, I do know how we react to life is most important. Yes, your dog will chew a hole straight through your mattress, hike his leg and pee on your leg during an important presentation, and knock you down so hard that both shoes fall off (all true stories), but how you react is key.
Next time you become frustrated during a dog training session or in any other scenario, take a moment to breathe deeply. Excuse yourself or hand your leash over to a friend, walk away, and compose yourself. Once you calm down, it's your duty to figure out a better way to teach your dog that doesn't involve punishment. That's what all great teachers do.
If your dog misbehaves, use that opportunity to reteach a behavior and practice it in the situation that caused your dog to run off, ignore your cue, jump up on someone or dash through the door. Don't punish. Teach your dog what is expected of him in that situation instead. 
This is More Than Just My Opinion
Many naysayers will claim this is just my opinion. While that's true to a certain extent, I've based my opinion on scientific learning principles that have been proven time and time again. Shoot, these are the same principles Dr. Phil uses with children and adults. These learning principles work for humans, dogs, cats, tigers, dolphins and even snails. We all learn the same way, and saying punishment must be used with certain breeds of dogs is completely ridiculous. And dare I say, a bit disrespectful too. All humans are taught the same, so why are we breed discriminating?
Times have changed and research has finally caught up with dog training. It's time to embrace dog training methods that work instead of listening to or reading outdated material. Your dog deserves it. 🙂