Puppy Mills & Pet Store Puppies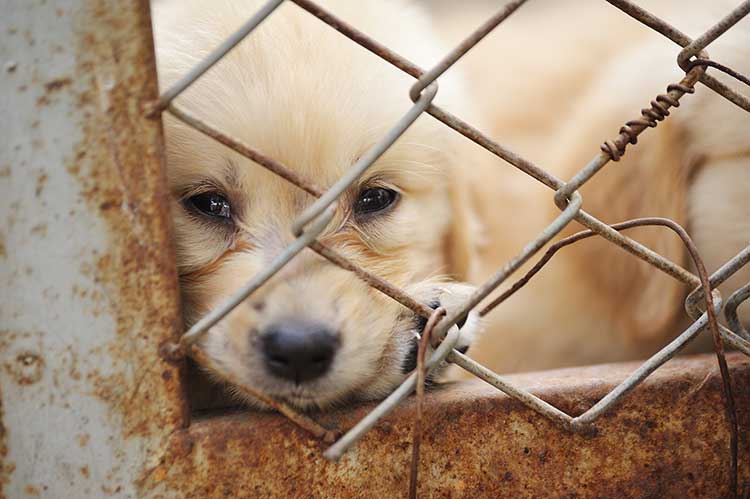 Over the last couple of years, passionate dog lovers have successfully brought attention to a sore spot in the pet industry—pet store puppies. It seems like this movement is finally picking up momentum, as many large cities are now banning pet stores from selling puppies and dogs. This is certainly a win for dog lovers everywhere, and here's why.
Puppy mills are run by heartless individuals looking to raise dogs cheaply and make a quick profit.
What are Puppy Mills?
Puppy mills are deplorable dog breeding factories. They mass produce purebred and designer dogs to fill demand for new puppies. Puppy mills ship very young puppies to any location regardless of distance.
Why Puppy Mills are Bad
Puppy mill dogs are kept in tiny cages where they're forced to live in their own feces and urine. They don't have access to veterinary care, are skinny from lack of nutrition, and have matted coats and severely overgrown nails due to lack of basic care.
Breeding stock aren't health or temperament tested. Instead, they're forced to have litter after litter to feed consumer demands from pet stores and unknowing pet owners. Puppy mills are run by heartless individuals looking to raise dogs cheaply and make a quick profit.
RELATED: Finding a Dog Breeder: How to Find the Right One
Looking at pictures of puppy mills is sickening enough, but witnessing a puppy mill in person is gut-wrenching. The stench will knock you off your feet and burn your eyes. These poor dogs are barely able to turn around in their cages and are left in dark rooms with no access to sunlight. Most puppy mill dogs have never walked on grass.
Watching these sickly momma dogs covered in mats and feces feeding tiny puppies just makes your heart hurt. Since these dogs have been handled and treated this way, puppy mill dogs are completely terrified of humans.
Given these horrible conditions, it's easy to see why puppy mills are bad. Unfortunately, puppy mills are everywhere. Most are hidden in rural areas. When one is shut down due to animal cruelty laws, another one pops up to fill demand for puppies. It's a never-ending battle, and dogs are the victims.
Pet Store Puppies
High consumer demand for puppies is the reason pet stores turn to puppy mills. Pet stores selling puppies are looking to fill inventory quickly, and puppy mills are the most convenient way to fulfill these needs.
Pet stores don't help these poor puppies out. Pet store puppies are kept in crates 24 hours per day with no access to the outdoors and are forced to potty where they sleep. Potty training a puppy mill puppy is beyond challenging because they've learned to potty anywhere. Puppies are little sponges until they're 16 weeks old, so keeping a puppy in a crate with limited interaction with the world is detrimental. In addition, pet stores don't properly screen prospective pet owners. This means these innocent pet store puppies could end up anywhere.
Just Say No
Nothing will be done until we do something about it. As a concerned pet owner, I urge you not to buy pet store puppies and educate prospective dog owners on why puppy mills are bad. Don't shop at pet stores that sell puppies and don't purchase dog treats from pet stores that don't sell dogs or puppies. At the very least, please share this article to educate others.
Don't feed puppy mills. Just say no.