Calming Essential Oils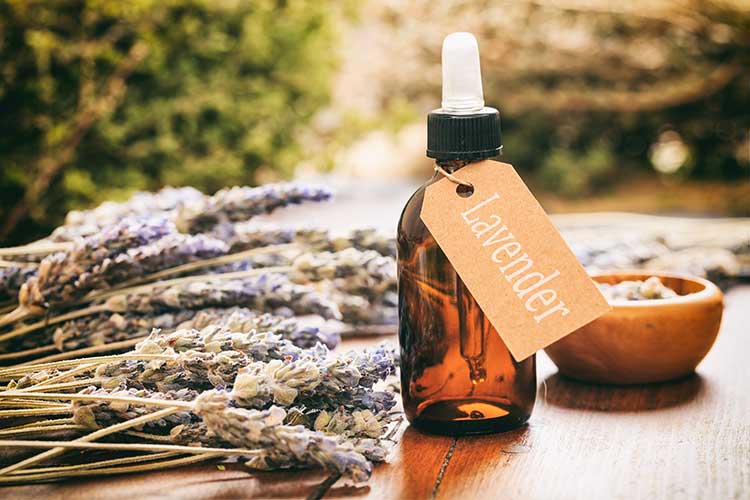 For thousands of years, we've used essential oils to ward off illnesses, repel insects and calm anxious minds. Now, calming essential oils are becoming popular within the dog world as pet owners seek out ways to help their anxious dogs. Learn which essential oils calm dogs plus how and when to use them.
Do Calming Oils Really Work?
Two decades ago, I attended a dog training conference where I sat in on a two-hour seminar discussing alternative therapies on a whim. While I was skeptical entering the packed conference room, my attitude quickly changed when I watched these modalities work their wonders.
I specifically remember the speaker, a noted integrative veterinarian, spraying lavender oil into the air to calm 250 attendees. It seemed a bit hipster at the moment, but the lavender silenced hundreds of dog trainers within seconds (seriously, that's a miracle!). Hmm, I thought maybe essential oils did work!
Fast-forward two decades, and essential oils for dogs are still extremely popular today. I recently attended a two-day essential oil seminar with veterinary professionals, and it's nice to see science catching up and showing promising results within humans and dogs alike.
As for the effectiveness of essential oils for calming animals, lavender is showing great results. In a study on Effect(s) of Lavender Aromatherapy on Acute-Stressed Horses, they found that lavender aromatherapy can significantly decrease heart rate after an acute stress response. Additionally, it can signal a shift from the sympathetic nervous control from the parasympathetic system. If lavender calms horses, then it can surely calm acute or chronically stressed dogs too!
Choosing a Calming Essential Oil for Dogs
High quality calming essential oils don't contain water or alcohol. Choose 100% therapeutic blends that are lab-tested independently for quality. My favorite single or oil blends are: Young Living Lavender Peace & Calm and Stress Away. While Peace & Calm and Stress Away are blended oils, meaning several oils are combined for a specific purpose, lavender is included in both blended options.
When and How to Use Calming Oils
Use calming essential oils sooner rather than later. Diffuse calming oils in the background to start the day off on a stress-free and positive note. Diffuse a calming oil every day for two weeks, and note the difference in your anxious dog. You'll likely notice you're in a better mood, and diffusing calming oils at night will help you unwind too.
A typical diffuser will emit calming essential oils into the air for two to three hours, so place it in a large room for best results. Never crate or secure a dog in a small room with a diffuser brewing nearby. Dogs must have the option to leave a diffused room if they like.
Also, it's best to diffuse oils into the air instead of applying oils directly onto a dog. Dogs have a powerful sense of smell and applying essential oils to your dog may be too strong for him. Dab a drop of lavender on your neck before bedtime (you become a diffuser), and everyone in the room (including your dog) will sleep much better.