6 Ways to Help Dogs After a Hurricane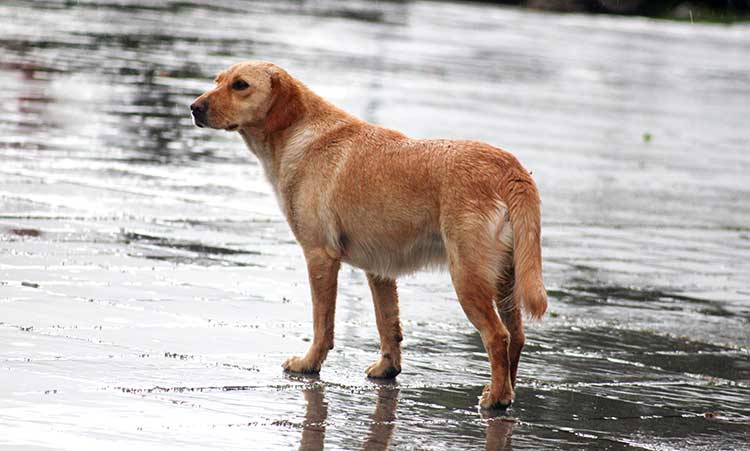 What just happened in Houston, due to Hurricane Harvey, has been devastating. Unfortunately, surrounding areas in south Texas and southwest Louisiana were affected too, and they're scrambling to save their homes, pets and livestock. As you watch hundreds of thousands of evacuees rescuing their dogs, you may wonder how you can help evacuated dogs until their pet owners are back on their feet. These tips will lead you in the right direction, so you can help dogs affected by the hurricane!
1. Foster
Hands down, finding people to foster dogs is the biggest need for all rescues. Large pet rescue organizations usually have the capacity to house numerous dogs safely, but space becomes extremely limited during natural disasters.
Smaller rescues located in rural areas have very limited space, making foster homes even more critical. Fostering a dog is easily a 2- to 6-month commitment, but keep in mind that rescue organizations cover all food, vet and supply costs. To apply as a foster home for dogs in need, find a local pet rescue and complete their foster home form.
2. Transport
During natural disasters, most dogs are evacuated out of the flooded area, which means transportation is needed. During flooding, anyone with a flat bottom boat is needed. Bring various crate sizes, dog treats, bottled waters, plastic bowls, and slip leads to capture and contain dogs during rescues. Coordinate drop-off points with dog rescue groups to ensure all pets are kept safe.
3. Set Up a Virtual Lost & Found Dogs Page
While we witnessed many evacuees leaving with their pets, there were several who were unable to get home to grab their furry friends before floodwaters blocked roadways. Thankfully, rescuers were pulling dogs in need out of homes and flooded backyards, then safely placing these dogs with dog rescue organizations. The problem was that it left pet owners looking for their dogs.
Many years ago, horrible tornadoes ravished Dallas, TX, leaving many pets displaced. A wonderful person started a "Dallas tornado dog lost and found" page on Facebook, and rescuers uploaded found dog photos online with their contact information. Pet owners, searching for their dogs, could log on and find their beloved family member. This is an excellent way to reunite dogs with their families. Surprisingly, many volunteers stepped up and spent countless hours matching photos of found dog photos with lost dog photos.
4. Donate Items
While large pet rescues donate to larger metropolitan areas, it's important to remember that rural pet rescue organizations are in desperate need for supplies as well. Items that are much needed during natural disasters include:
Dog food
Treats
Collars
Leashes
Toys
Chews
Bowls
Crates
Dog beds
Shampoo
Towels
Blankets
Pee pads
Flea and tick products
Contact your local dog rescue or, better yet, visit their website and order items off their "wish list." Chewy.com offers free and fast shipping with great prices—I just shipped two large crates straight to the doorway of Lake Charles Pit Bull Rescue.
5. Fundraise
Coordinate fundraisers for local dog rescue organizations with "wish list" items they've posted at local pet supply stores. Create a media blast and ask for specific items, such as dog crates and food, with drop-off destination points clearly noted. People want to help, so make it easy.
6. Donate Money
Donating funds is always appreciated, as most local dog rescue organizations use these funds for veterinary bills. Many stray dogs have critical medical needs, and even with deep rescue discounts, veterinary bills can easily total over a thousand dollars per month for small rescue groups. If your local rescue has not set up a donate site yet, start one for them (with their permission of course).