Massaging Your Dog in 3 Steps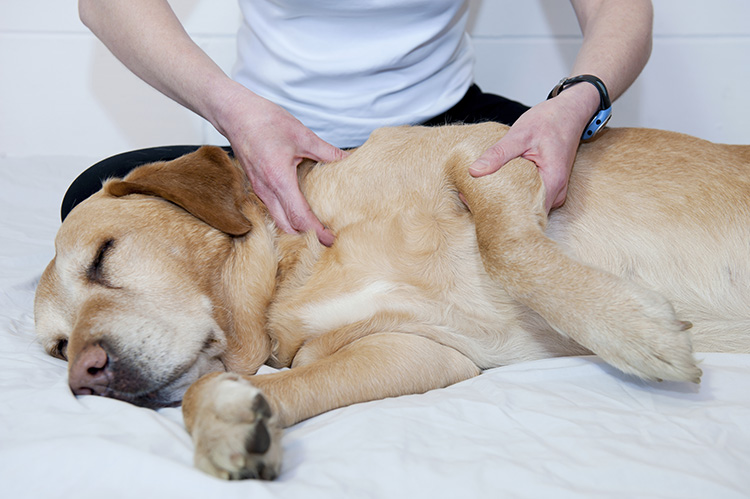 Massage is a wonderful modality if done slowly, purposefully and thoughtfully. Dogs benefit greatly from weekly massages. Another fabulous benefit of dog massages is you don't have to be an expert in canine anatomy to give your dog a soothing massage. When massaging your dog, just remember to start slowly, apply light pressure, take deep breaths and pay attention to your dog's body language.
Take a deep breath in and out and let's get started.
1. Introduce Massage Slowly
If body massage is new to your dog, introduce the process slowly. While your dog is standing or sitting, rub both of his ears slowly and lightly. After a few minutes of massage, you'll notice your dog starting to relax.
Relaxed dogs will close their eyes, sigh, pass gas, slide or flop onto the ground. All of these are good things! Once your dog is relaxed, slide your open hand (palm facing dog) along each side of his neck. Keep your hand flat and fingers close together and take long strokes slowly.
Now move over to your dog's shoulders, front legs, chest, back (stay away from the spine) and back legs. Use long and slow strokes to cover large areas. If your dog allows it, stroke upward from his paws to his shoulders. Using your thumbs, lightly massage over and under your dog's paws and wrists. Remember, long and slow strokes are very soothing, so slow yourself down if needed.
2. Apply Light Pressure
While massaging your dog, use enough pressure to move your dog's skin, but not too much that you move his muscles. This technique is called a Swedish massage, and it's the most popular and requested variety by massage therapists.
Deep tissue massage has a specific purpose, but it can be painful, especially over trigger points. It's best to leave this type of massage to canine massage experts because this requires a thorough understanding of canine anatomy.
Watch your dog's body language closely when giving him a massage. If he pulls away, lifts his head or sits up, you're probably using too much pressure or moving too fast. Take a deep breath, slow down and focus on your dog's ears again if this happens. Continue to take deep breaths while massaging your dog. Breathing keeps you both relaxed, which is an important part of massage.
3. Use Rhythmic Movement
Pressure is important and so is hand movement during a massage. Lightly place both hands on your dog and keep them on your dog's body while you're massaging him. Having both hands on your dog prevents him from becoming startled when you touch with your massaging hand. Plus, it keeps him grounded.
Place your non-massaging hand on your dog's chest or flank while your massaging hand moves back and forth. As you're moving down your dog's body to continue massaging, glide your non-massaging hand downward instead of picking it up and placing it.
A great dog massage technique is to use rhythmic movement. Our brain understands and follows a predictable rhythmic sound or touch. Rain falling, a bubbling stream and soothing music all have one thing in common: predictable rhythmic sounds.
When giving your dog a massage, use your breathing to count each massage stroke. As you exhale, move your hand across your dog's body. When you inhale, lift your massaging hand up to reposition before completing another stroke.
Dog Massage Benefits
Oh, the benefits of massaging your dog are unlimited! Massage relaxes and reduces fearful behavior in dogs. Easily excited and highly energetic dogs learn how to self-settle and relax when massaged. Massage also alleviates pain after surgery and provides immense pain relief for arthritic dogs.
During a massage, you're able to fully examine your dog's body for any lumps, bumps and abnormalities. And it's true, regular massage increases circulation and removes toxins from the body. Even better is massage deepens the bond between you and your dog, and that's priceless.
Massage your dog today. You'll both learn to unwind, relax and breathe deeply together.