Adding the "Down" Cue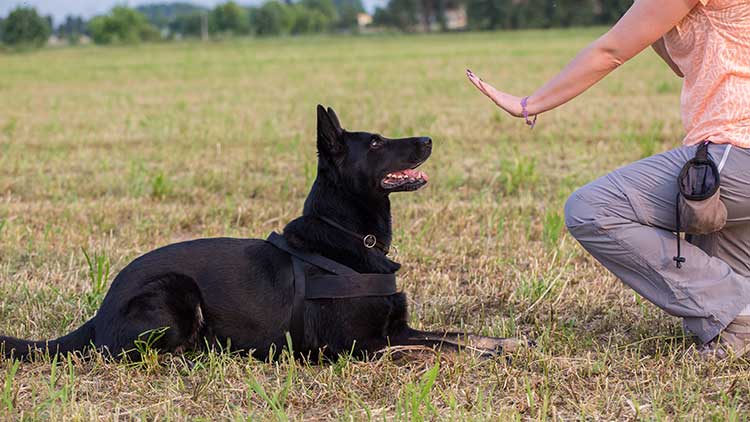 When training your dog, it's important to add a cue once the behavior has been fine-tuned. So often, pet owners will spend oodles of time training their dogs how to lie down, but fail to add a "down" cue to the behavior. Those who do use a training cue assume their dogs know what it means, but half the time their dogs don't.
Dog training cues are vital when teaching a dog new behaviors because they serve as information for a dog. Check out these steps on when and how to add a "down" cue to the behavior.
Dog Training Commands vs. Cues
Dog training cues are a signal to perform a specific behavior. Many decades ago in the dog training world, cues were known as commands. Commands meant "do this or else" while cues signal information. Thankfully, the term "command" is considered outdated terminology and no longer used in dog training.
What to Use as Dog Training Cues
Cues can be anything. In dog training, cues are usually short verbal words or hand signals (either one or the other). Dogs learn contextual cues too, such as the presence of a leash means walks and the jingling of car keys means car rides.
Dogs usually respond to hand signals quicker than verbal cues because pet owners use hand signals consistently. Verbal cues are tricky because people say them differently, repeat the cue over and over, or add additional words.
When choosing a dog training cue, select a word or hand signal and use it consistently. If you're using a verbal cue, use a flat tone. Imagine you're giving directions to a stranger. High-pitched or low growl cues are confusing unless the pet owner uses this tone each and every time, which is very difficult for humans. Keep it simple and use your "follow these directions" voice. 🙂
When to Add a Cue
Most pet owners add training cues way too soon. When teaching a new behavior, it's important to say nothing. Refrain from saying a cue during the learning process because the dog hasn't learned the behavior yet.
Think about it this way: If someone is trying to teach you to stand on your left foot and continued repeating "mais," you would get frustrated. Once you understand standing on your left foot makes it rain $100 bills and then someone said "mais" right before you stand on your left foot, you learn the meaning of "mais." When practiced, you'll quickly learn to stand on your left foot every time you hear "mais" because you know you'll earn money.
Once a dog will readily offer a "down" behavior 90% of the time, it's time to add a "down" cue. Offering a behavior means a dog will lie down during a dog training session or can be easily lured into the behavior. Take a moment and think of a short word or hand signal cue for the next step. Ensure your entire family is precisely aware of the "down" cue and that everyone says or does the signal consistently.
How to Add a "Down" Cue
Grab a handful of pea-sized high value training treats, a clicker (or marker word, such as "yes") and start a session with your dog. Right before your dog offers the desired behavior, give the "down" cue and click/reward the behavior. Practice this 3-4 more times, then end the training session. After a 5-10 minute break, practice adding the cue before the behavior 5 more times, then end the session.
If, for some reason, your dog offers a "sit" or "stand" when given a "down" cue, wait until your dog chooses to do the "down" behavior. The moment your dog finally lies down, click and reward. When this happens, your dog is learning exactly what the dog training cue means, and is brilliantly problem solving. Reward generously (give 2-3 treats) when your dog chooses to lie down.
RELATED: Healthy Dog Treats
Reward Cued Behavior Only
Once your dog will lie down when given a "down" cue, it's time to reward cued behavior only. This is called stimulus control, and it's an important step. If you miss this step, your dog will learn to walk right in front of the TV (during movie night) and "down" for a treat. 🙂