Helping Tethered Dogs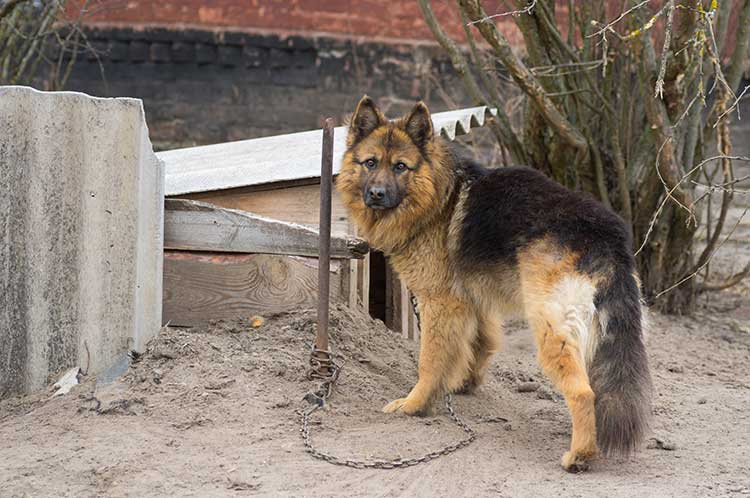 I'm visiting my family in rural south Louisiana for a few weeks. My family lives in a very affluent neighborhood, but I noticed something odd quickly upon arrival. A close neighbor had a tethered dog in her front yard. Before I could mutter a single word, my mother said, "I've called Animal Control and the police. There's nothing I can do for this poor dog." Hum, let's see about that.
It goes without saying: Tethering dogs is cruel. Please never chain a dog. If you notice a dog tethered outside, please say something to the owner. Dogs don't have a voice, but we do.
Check County Ordinances
With easy access to the Internet today, it's super simple to find city (or parish in Louisiana) ordinances online. Once you've found your county's ordinances and laws, browse for the chained or tethering dog section. This can usually be found within ordinances pertaining to dogs, animals or animal cruelty.
Is Tethering Dogs Legal?
Every county is different when it comes to tethering dog laws, but most counties require tethered dogs to have access to food, fresh water and shelter. Additionally, pet owners may not deny dogs access from food, water or shelter for more than 24 hours. (24 hours is a long time in Louisiana heat.) You may also find strict dog chain length requirements for your county.
RELATED: What You Need to Know About HOA Pet Restrictions
My Experience
In the beginning, my family called Animal Control because this dog didn't have shelter from Louisiana's sweltering summer temperatures. About 24 hours after Animal Control spoke with the owner, a huge Igloo dog house was provided and the dog was tethered to a longer chain per specific county recommendations. However, this poor dog would run around in circles, shortening her chain, which restricted access to shade and water.
Well, I started taking videos and pictures every time the dog was restricted from shade and water as documentation. Apparently, the owner noticed me standing in the road taking pictures and recording her dog. Shortly after documenting, I noticed the owner started walking outdoors to unwind her dog's chain and pour fresh water in the bowl. She knew I was watching.
Talking to the Dog's Owner
By far, this was the hardest part. Somehow, I pulled together every bit of patience possible, walked over and knocked on the door while smiling. A middle-aged woman opened the door smiling back. After a few polite pleasantries, I expressed my concern about her dog tethered up in her yard. She explained that her German Shepherd Dog didn't get along with her other dogs, so it was chained up. Being the dog trainer that I am, I offered her a few tips on keeping dogs separated indoors using dog crates. The owner thanked me for my advice sincerely.
Within a day or two, I noticed this young German Shepherd Dog was brought inside at night. By morning, she was chained up outside again, but at least it was a start. I will continue to educate and document for this poor dog's sake. If you see a tethered dog, I advise you to read these tips before confronting the dog's owner.
Be a dog's voice because she doesn't have one. Please.
READ NEXT: 7 Tips on Being a Responsible Dog Owner