Benefits of Pumpkin for Dogs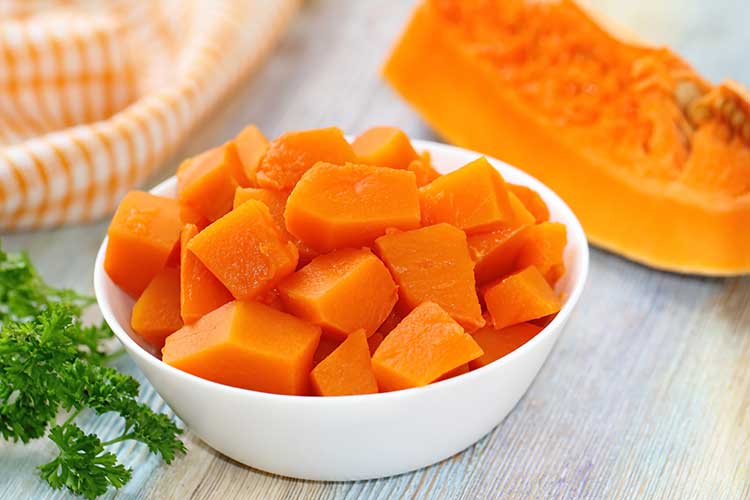 As fall approaches, pumpkins slowly pop up in grocery stores and doorsteps. Pumpkins are certainly a beautiful symbol of fall, but these fruits are packed with amazing health benefits for dogs too. Yes, pumpkins are considered fruits due to their flowering plants and seeds, and they taste delicious when slow-roasted in the oven. Check out these amazing benefits of pumpkin for dogs and why you should feed your dog cooked pumpkin several times a week.
Aids Digestion
Pumpkin is rich in fiber, and contains both soluble and insoluble fiber. Soluble fiber softens stool and contains anti-inflammatory properties. Insoluble fiber doesn't dissolve in water, but instead it prevents constipation. Due to both soluble and insoluble fiber, pumpkin prevents constipation and can certainly firm up minor diarrhea. If your dog has stomachaches, always partner with your veterinarian before adding pumpkin to your dog's food. Slowly add pumpkin over a course of 7 days to prevent further tummy issues.
Slims Waistlines
Not only can fiber relieve common digestive issues, but pumpkin fiber also makes dogs feel full longer. When dogs are watching their waistlines, it's important they eat less food and treats. This is much easier said than done, especially when pitiful brown eyes are begging for more food. Adding a teaspoon of pumpkin to a low calorie diet will ensure dogs feel satisfied after a meal.
Fights Bladder Cancer
Diet certainly plays a part in preventing disease, and it seems adding yellow-orange fruits and vegetables can lower the risk of bladder cancer in certain breeds of dogs. A study was done on Scottish Terriers, which are genetically prone to bladder cancer, that "suggest(s) that consumption of certain vegetables may prevent or slow the development of TCC (bladder cancer) in Scottish Terriers" (J Am Vet Med Assoc. 2005 Jul 1;227(1):94-100). While this study focused on a specific type of cancer and a specific breed, this research certainly reveals the power of adding fresh fruits and vegetables to your dog's diet.
Choosing Pumpkin for Your Dog
Slowly oven roast fresh pumpkin until soft, or purchase canned pumpkin at the grocery store. Stay away from pumpkin pie filling for dogs, as it's loaded with sugar and other ingredients. Another canned option, created by a veterinarian, is Fruitables' Pumpkin Superblend, which contains whole pumpkin plus ginger, B vitamins and additional soothing supplements.
If your dog is eating a raw or cooked diet, it's certainly advisable to toss cooked pumpkin into your dog's veggie mix each week. For kibble-fed dogs, spoon a bit of pumpkin on top or mix into your dog's meals each day.