Stevia for Dogs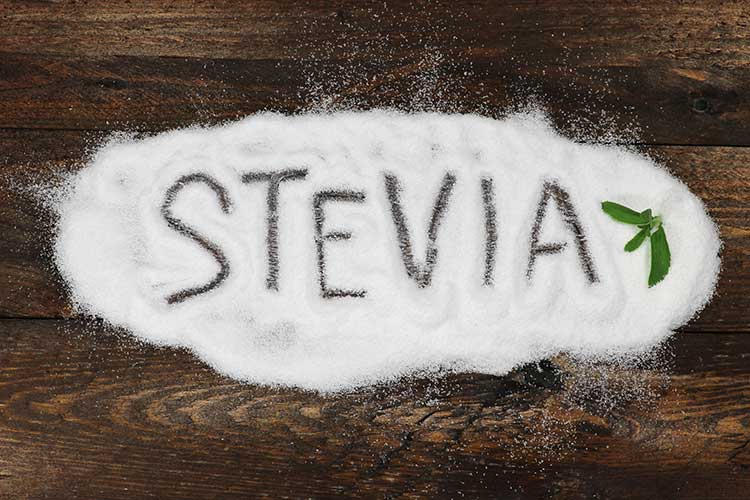 As more pet owners become health conscious and seek sugar substitutes, you'll find more and more sugar alternatives popping up. These sugar substitutes have even made their way into dog products, such as dog toothpastes to entice daily tooth brushings.
We all know xylitol is extremely dangerous to dogs, but can dogs eat stevia?
What is Stevia?
Stevia is made from a plant and not in a laboratory unlike sugar. Dried stevia rebaudiana plant leaves are crushed into a powder and used as a natural sweetener for foods and drinks.
Stevia is also known as sugar leaf or SweetLeaf, and tastes much sweeter than regular white table sugar. Interestingly, stevia causes fewer health side effects than sugar and takes much less farmland to grow. Stevia tastes sweet, but it contains a certain bitterness or distinct aftertaste, which many people dislike.
RELATED: Is Honey Good for Dogs?
Is Stevia Safe for Dogs?
From my research, it seems stevia is not toxic to dogs. However, if dogs ingest too much stevia, they can develop really bad diarrhea. With that said, it's difficult to determine how much stevia is actually too much, depending on a dog's size and weight.
It's best not to feed your dog too much or any stevia at all. While the taste may be delicious, it's not necessarily the best for our or your dog's diet. Most high quality dog treats don't even contain sugar, or any other types of sweeteners, and dogs happily gobble them up.
While we're discussing sugar substitutes, it's important to remember that xylitol is extremely toxic to dogs. Unfortunately, due to the popularity of sugar-free products, xylitol is creeping into many human foods, including peanut butter (a favorite among dogs). Xylitol is so toxic, I know many pet owners refusing to bring any products containing xylitol into their home.
Read all labels before giving your dog any type of product.