Treating Discolored Teeth in Dogs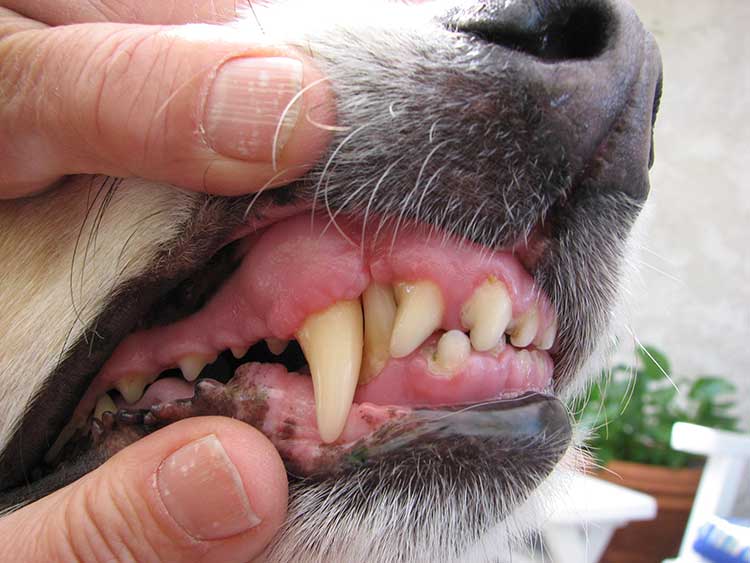 Dogs can develop periodontal disease and injure their teeth just like humans. Damaged dog teeth hurts! Despite being stoic creatures that can easily hide their tooth pain, dogs are definitely hurting.
One dog dental problem you may encounter is discolored teeth in dogs. Discolored dog teeth could be a sign of a more serious health problem and should not be ignored. If your dog's teeth are discolored, it's time to take a peek inside her mouth and jump into action.
Monthly Mouth Exam
The first step to preventing painful tooth issues is taking a good look into a dog's mouth. Once a month, look into your dog's mouth and examine each tooth carefully. While dog teeth are stronger than human teeth, they are still susceptible to injury, which is why it's so important to take a look into your dog's mouth often.
When looking at your dog's teeth, keep an eye for:
Tooth discoloration
Brown or black streaks running horizontally or vertically along a tooth
Bleeding or receding gums
Lacerated gums
Misaligned teeth
Lesions
Foul odor
If your dog is uncomfortable having her mouth open for a dental exam, teach your dog to say "ah."
Ask An Expert
If any issues are noted, take a picture of the tooth and show your veterinarian. Usually, a vet will complete a thorough examination and recommend a dental cleaning or refer you to a veterinary dentist.
Sometimes, veterinarians recommend a "wait and see" protocol. Remember, damaged dog teeth are painful for your dog, so ask for a referral to a veterinary dentist for a second opinion. Be persistent because damaged teeth won't improve without medical treatment.
Veterinary Dentist
Veterinary dentists are veterinarians that are board certified in animal dentistry. These experts are trained to successfully repair dog teeth using the latest dentistry practices available. Plus, they're able to identify a damaged tooth quickly and offer options, such as root canals, crowns and removal, if needed. Many pet owners notice an increase in friskiness in their dogs after damaged teeth are addressed because their source of throbbing pain has been removed. It never hurts to ask for a second opinion from an expert. Be your dog's advocate.
Never ignore discolored dog teeth and always consult an expert.