4 Steps to Take When You Find Lumps on Dogs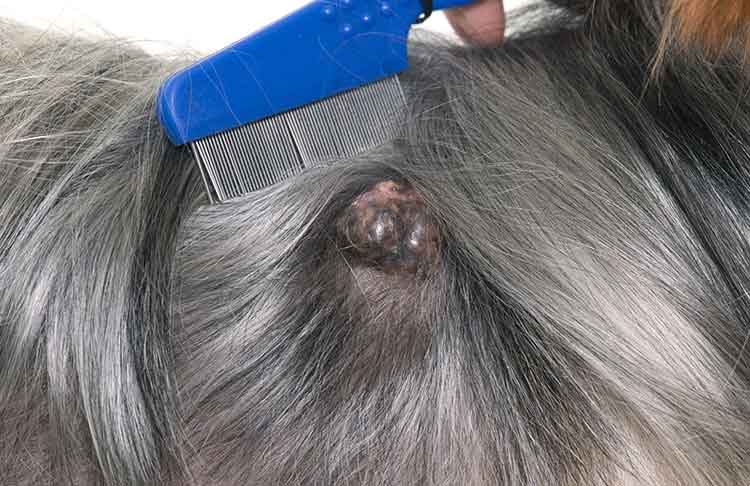 Finding a lump or bump on your dog is scary, and most pet owners aren't sure what to do next. Before assuming the worst case scenario, it's important to follow a few steps to keep your dog healthy.
For early prevention, check your dog's body from nose to the tip of his tail weekly.
1. Take a Deep Breath & Investigate
Before freaking out, take a deep breath slowly in and then out. It's time to take a good look at your dog's lump. Move into a room with really strong lighting or grab a flashlight for a close inspection. To keep your dog still, smear peanut butter on a plate and then place it on the ground. As your dog happily licks away, part your dog's coat and take a closer look at the lump.
While investigating the lump, it's important to answer these questions:
Does the lump under your dog's skin move? (i.e. moves side to side easily)
What shape is the lump? (i.e. round, shape of chewed bubblegum, ulcer, mushroom, etc.)
Is the lump bleeding or oozing clear sebum?
Now, run your fingers across your dog's body to check for any other lumps. Take your time and check between your dog's paw pads, under his tail and around each leg.
2. Take a Picture
To keep track of the lump's size, it's best to take photos the moment you notice the lump and every couple of days afterwards. Some lumps on dogs appear quickly and stop growing while others continue to slowly grow larger. Part your dog's coat, place a flexible tape measure adjacent to the lump and snap a photo. These photos will be extremely beneficial for your veterinarian.
3. Jot Down Notes
Along with photos, you should document details of the lump on paper or in a Word doc. Remembering specific details about a lump and its growth over a span of time can be difficult. By jotting down notes, you can have a written account of the lump, which will be invaluable for your vet.
You should write down the date of when you first noticed the lump along with any photos. Then, every 2-3 days, note the date and any observational findings (e.g. bleeding, dried up, growing, decreased in size, etc.). Don't forget to include any pictures as well. All of this information is important to your dog's health, so keep track and write notes on a regular basis even if you didn't notice any changes.
4. Make a Vet Appointment
Never monitor a lump without consulting your veterinarian first, including tiny lumps. Lumps and bumps have many causes, and one is cancer. Other lumps on dogs may indicate lymphoma or bone cancer, which should never be ignored. When lumps are found and diagnosed early, a dog has a better chance of surviving certain types of cancers.
After finding, investigating, taking photos and jotting down notes, pick up your phone and schedule a vet appointment. Never wait. Schedule a vet appointment within 24 hours of finding a new lump on your dog. During the visit, your dog's veterinarian will aspirate (remove lump cells with a needle) and view these cells under a microscope. Most scary cancers can be diagnosed and removed quickly with great success.
When in doubt, get a lump checked out. Prevention is worth it.