Pros and Cons of Pig Ears for Dogs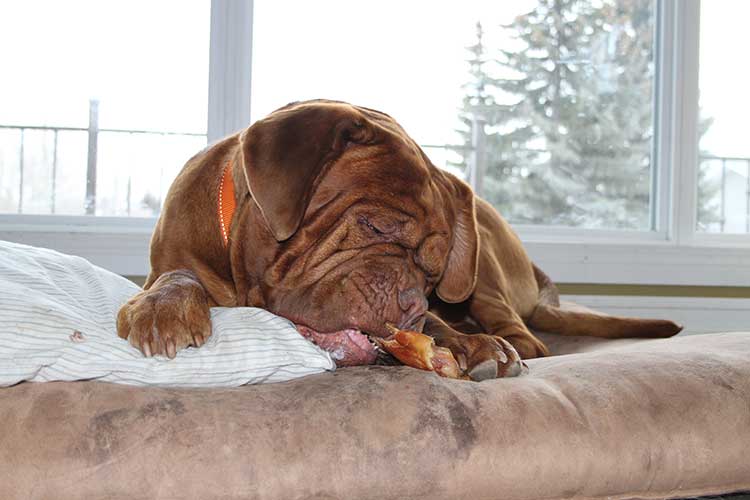 Dogs love and need to chew. Chewing provides mental stimulation and exercise, keeps teeth clean, is fun and super relaxing. If dogs aren't given plenty of chewing opportunities, they'll likely create their own, which is never a good thing. So, should your dog chew pig ears? It depends. Learn the pros and cons of pig ear chews for dogs.
Pros of Pig Ear Dog Treats
The most appealing advantage about pig ear chews is dogs find them simply delicious! In my 20-plus years as a dog trainer, I've never witnessed a dog turning his or her nose up at a smoked pig ear dog treat.
Their thick hide and density make pig ears easy to chew for small, delicate chewers and senior dogs. Another huge plus is pig ear chews keep your dog's teeth clean and gums healthy, which means fresh breath. Pig ear chews are also odorless even while your dog chews them.
Due to their popularity, pig ear dog treats are readily available at pet retailers and online, and are relatively inexpensive compared to other dog chews.
RELATED: Are Antler Chews for Dogs Safe?
Cons of Pig Ear Dog Treats
Pig ear dog treats are high in fat. When consumed daily, pig ear chews can cause vomiting and diarrhea. Overzealous chewing dogs (power chewers) may choke or swallow large chunks, causing GI obstruction hazards.
Another pro about pig ear chews is power chewers can literally consume a pig ear chew within seconds, which can get very expensive. Most pig ear dog treats are also covered in chemicals, additives and preservatives, so choose chews made in the USA only.
Since pig ear chews for dogs taste so delicious, some dogs may exhibit resource guarding behavior and protect these treats from other dogs, people and children.
Pig Ear Chew Safety
If your dog is prone to obesity, has pancreatitis, is currently eating a bland diet or consumes chews too quickly, then it's best to provide a different type of dog chew.
Pig ear chews are best for small dogs, delicate chewers and seniors in moderation (one chew per week). For power chewing dogs, bully sticks are a better option. Remember, supervision is vital while dogs chew. It's the best preventative for choking or digestive obstructions.