Yummy Low Calorie Kong Filler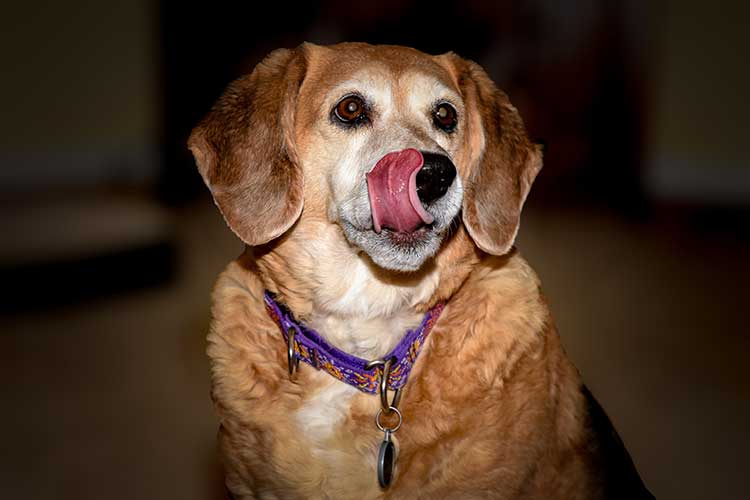 Dogs love food just as much as humans. Sometimes, all of us love food a bit too much and extra pounds find their way onto our bodies. With canine obesity becoming a major epidemic, it's time to cut back on a chunky dog's calorie intake.
Diets don't mean starvation; it just means making lower calorie choices. Remember, dogs must have daily mental stimulation, and providing low calorie Kong fillers are an excellent way to keep your dog's mind busy while watching his waistline.
Choose a Vegetable
Vegetables make great low calorie dog food that is also healthy for dogs. Dog-friendly vegetables include: cooked or canned green beans, peas, carrots, kale, collard greens, and broccoli. Once you've chosen a vegetable, make sure to cook it thoroughly, so your dog can digest it. Vegetables have a thick cellulose layer, making it impossible for dogs to digest raw.
Something Sweet or Savory
Adding something sweet or savory to vegetables makes them taste much better. Since you're watching your dog's waistline, only a dollop is needed. Choose from raw honey, squeeze cheese or molasses, and make sure your dog absolutely loves it. In the Kong, layer vegetables and a 1/2 teaspoon of squeeze cheese until the Kong is filled.
If your dog only eats the squeeze cheese (it happens), then mix the cheese and vegetables together before filling up the Kong. If your dog is still skeptical about vegetables, try mixing tiny bits of lean chicken or turkey breast into the veggie mix. One sure-fire way to entice a dog to eat his vegetables is to hide a raw chicken heart at the very bottom of the Kong. 🙂
Freeze
Freezing a food stuffed toy makes it last much longer, and that's important for a dog watching his waistline. If your dog is unsure about a frozen Kong, then firmly pack in the vegetable mixture to keep your dog busy.