Training Small Dogs: Reward Without Back Pain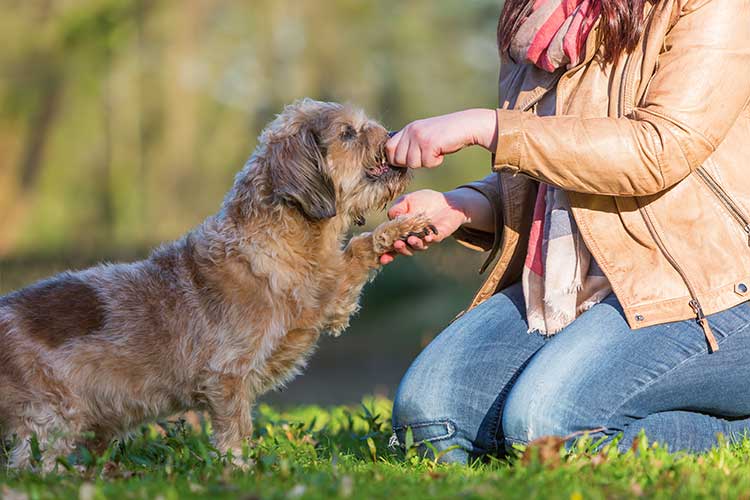 All dogs deserve lots of super yummy treats during dog training practice sessions. However, when training small dogs, a pet owner can certainly strain his back from repeatedly bending down to give his dog a treat. If you share your home with a small dog, give these treat tossing tips a try and give your back a rest.
Feed the Floor
When rewarding your small dog for a good job, try tossing treats on the floor instead of bending over and popping treats into your tiny dog's mouth. Tossing treats on the floor is an extremely effective reward system, and you're able to move your small dog around to reset for the next behavior.
If tossing treats on the floor is bothersome, place a plastic container on the floor and toss treats into that. Your small dog can perform a behavior, then walk over to her "treat bucket" to eat her earned treat.
Lightly toss treats about 2-3 feet away from your dog. Tiny bits of cheese work extremely well because there's minimal bounce factor plus low fat cheese won't leave a greasy residue behind.
RELATED: How to Clean Food Stuffed Toys
Use a Wooden Spoon
When training your small dog to walk on a loose leash, it's vital to reward her often. Bending over and popping a treat into a dog's mouth every few seconds can certainly put unneeded strain on your lower back. Instead of bending over, place a large dollop of peanut butter on a wooden spoon or rubber spatula. Hold the spoon behind your back to prevent your small dog from jumping up and trying to mug you for treats.
When rewarding the right behavior, lower the spoon down, so your dog can take a lick or two of peanut butter, then pick it back up. Some dogs will grab the entire dollop of food off the spoon (smart dog), so smear peanut butter across the spoon or spatula surface to prevent this from happening.
Between both tips, see which one works best for you. Using a peanut butter spoon works best when teaching small dogs polite leash manners, and the feeding the floor method is ideal for everything else.