Teaching a Small Dog the "Down" Behavior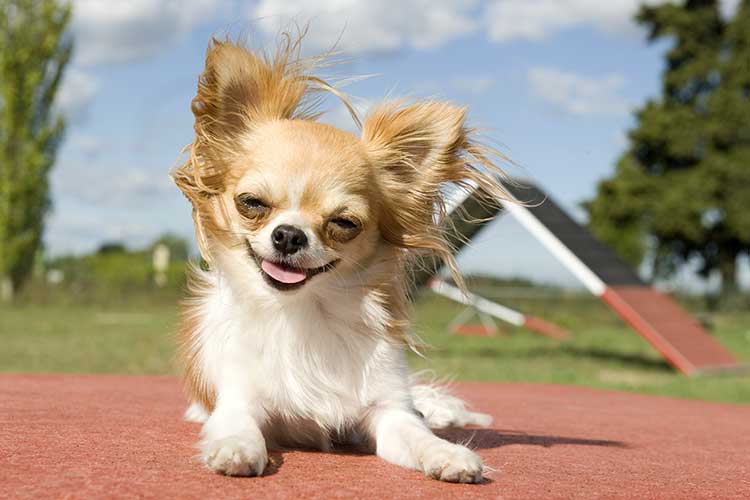 The three most challenging dog behaviors pet owners struggle to teach their dogs are walking on a loose leash, coming when called and lying down on cue. Let's discuss simple tips for teaching a small dog to lie down. Teaching a small dog to lie down can be challenging, and it's much different than teaching a large dog.
First, You'll Need a Few Things
You'll need 20 pea-sized pieces of yummy treats, a clicker (or verbal marker, such as "yes") and your dog. Before a dog training session, chop up treats and place them in a bowl or treat bag next to you.
OK, here's the hard part: Remain silent when training your small dog to lie down. Don't say "down," "lie down," "platz" or whatever the verbal cue will be—this will happen later. Speaking while teaching a new behavior interrupts the learning process. Can you imagine your French teacher babbling while teaching you specific French words? Talking muddles the water. There are two ways to teach a small dog the "down" behavior: using a food lure and capturing the behavior.
Using a Food Lure
In a low distraction area, such as your living room with the TV turned off and/or children napping, sit on the floor with your treats. If your dog tries to mug you, move the treats away. Now, take a treat in your hand and place the food lure right on the tip of your dog's nose. Think of a food lure as a magnet stuck to your dog's nose. As the treat moves, so will your dog's nose.
Front Half Down
With your dog sitting or standing, place the food lure on the tip of your dog's nose and slowly lower the treat straight down to the floor. A dog will follow the lure, but sometimes "fall off," so move the lure slowly. (Of course, it's totally acceptable for your dog to nibble on the food lure as you lower it.)
The moment your dog follows the food lure and the front half of his body is almost on the ground, click and give your dog the treat. Practice this 4-5 times, and end the session for 5 minutes or so.
RELATED: Can a Dog Be Too Food Motivated?
Back End Goes Down
It's time to teach your dog to lower his entire body to the ground. Place the food lure on your dog's nose, and lower it to the ground. Once he lowers his head, wait a few seconds for him to lower his rear end too and place his elbows on the ground.
If your dog pops back up into a stand, lure him down again and wait a few seconds. Usually, a dog will lower his rear end into a crouch, so click and reward this behavior. Continue practicing until his elbows touch the ground.
Capturing the Behavior
Many pet owners swear their small dogs just won't lie down. Hmm, dogs have to sleep, right? Dogs lie around the house right? Capturing your dog lying down is a great way to teach your dog the "down" behavior.
Grab your dog training treats and bring your dog inside the bathroom. You may need to toss a few treats inside the bathroom to reassure your dog it's not bath time. Now, close the door and have a seat on the toilet (yes, you can multi-task during this training session 🙂 ).
Watch your dog from the corner of your eye. The moment he lies down, click and toss a treat across the bathroom. Say nothing and wait for him to lie down again, then click and treat the moment he does. Practice a couple of times, and soon your small dog will lie down and look right at you. Reward it! 🙂
London Bridge
Sit on the ground with both legs straight out in front of you. Bend your left leg upward to form a triangle. Using your right hand, lure your dog under your bent left leg. As he crawls under your leg, he's forced in a "down" position, so click and treat the moment this happens. Practice a few more times, then end the training session.
Next, Add a Cue
Practice teaching your small dog to lie down several times a day for 1-2 minutes. End the session by placing unused treats in the refrigerator for your next dog training session and putting your clicker in a drawer. Soon, your dog will offer a "down" behavior with neither food lures nor bent knees. When this happens, it's time to add a verbal or visual cue.